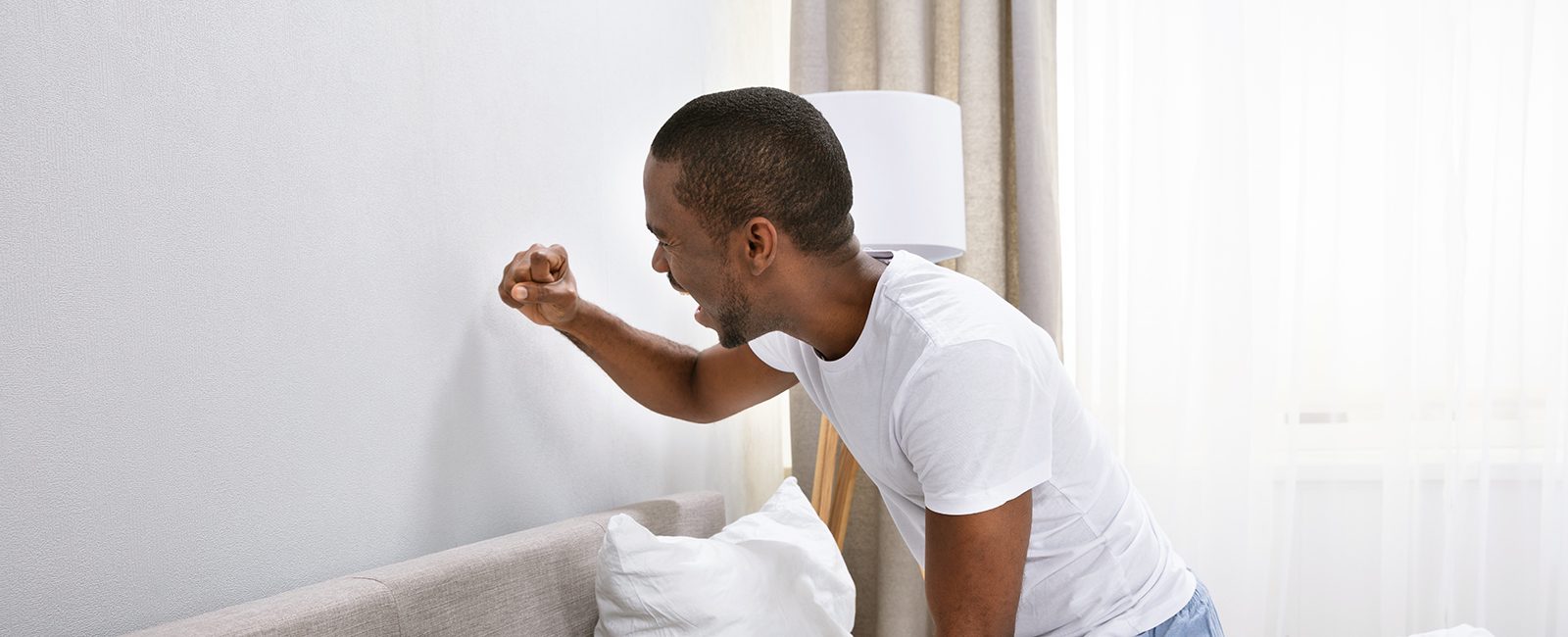 Anti-social behaviour, neighbour nuisance and harassment
What is anti-social behaviour, neighbour nuisance or harassment?
We take seriously any complaints about anti-social behaviour, neighbour nuisance or harassment. This is a guide to explain what is meant by these terms and to tell you what we can do when you report a problem.
Anti-social behaviour and neighbour nuisance are general terms used to describe a whole range of things that people do that upset tenants and other residents. The Crime and Disorder Act 1998 says that anti-social behaviour is behaviour which causes, or is likely to cause, harassment, alarm or distress to one or more people who are not in the same household as the perpetrator.
Some anti-social behaviour is of a serious, criminal nature. Other behaviour may not be criminal, but can still affect the quality of life in a neighbourhood.
Your written tenancy or licence agreement sets out a number of things which can be classed as a nuisance, harassment
or as anti-social behaviour. These include:
Criminal activity involving violence
Drug dealing
Hate Crime & Hate related incidents
Assault
Threats of violence
Harassment
Domestic violence
Aggressive and abusive behaviour
Frequent and persistent disturbances (including noise)
Drug, solvent and alcohol abuse in communal areas
Vandalism
Pet nuisance
Constant door slamming and arguing

Operating noisy machinery for excessive amounts of time
This is not an exhaustive list.
What you should do if you are suffering from anti-social behaviour, neighbour nuisance, or harassment.
People react differently to anti-social behaviour and nuisance. What causes annoyance or distress to one person may hardly be noticed by another. You may also find that behaviour which you feel is disturbing may not be nuisance in the legal sense, or a breach of tenancy.
In the first instance, the best course of action is to talk to the person responsible for the nuisance. If this is not possible or if it does not work, it is important that you keep a written record of the dates, times and duration of the nuisance.
Also make a note of what is disturbing you and what action you took yourself to get the nuisance stopped.
If the problem continues, you should contact us and provide us with as much information as you can. You will need to tell us your name, address and details of the nuisance. We cannot easily deal with anonymous complaints but we will offer guidance on what you can do.
What we can do to tackle anti-social behaviour, neighbour nuisance or harassment.
We will take all the details from you and we will investigate the problem. This may involve visiting you and other neighbours to gather more details, taking photographs, talking to the police or other agencies and supplying you and other neighbours with incident diaries. Incident diaries are for you to use to keep a record of the incidents that disturb you. We may ask to see any supporting evidence such as photographs, video footage, doctors' letters etc.
If the person causing the anti-social behaviour or neighbour nuisance is one of our tenants and there is a breach of their tenancy agreement, we will usually then visit them to discuss the problem. We may also write to them asking them to stop the nuisance.
If the person causing anti-social behaviour or nuisance is not one of our tenants, there may be less we can do. However, we will offer you advice on action you can take.
Non-legal action
Before taking action through a court for breach of tenancy, or where the behaviour is less serious, there are other actions that you and we can take to deal with anti-social behaviour, nuisance and harassment.
Mediation
Mediation is a voluntary process in which trained, experienced mediators act as a neutral third party to help people who are in dispute to work together to solve their problem. In some cases we may consider offering mediation to resolve a dispute.
Working with other agencies
We work closely with the police, local councils and other statutory and voluntary agencies to tackle anti-social behaviour or nuisance. If the nuisance is a persistent noise problem, we can refer the matter to your local council's environmental health department. They can take action for statutory nuisance.
Magistrates' courts can also decide that a noise nuisance is a statutory nuisance and should be stopped. For more information on this, contact the community safety team, your local council's environmental health department, your local Citizens Advice Bureau or the magistrates' court.

Acceptable Behaviour Contracts
We may use an Acceptable Behaviour Contract (ABC). This is a voluntary written contract between the person(s) involved in the anti-social behaviour and us. The ABC sets out the anti-social acts which the person agrees not to continue. If the contract is breached, this can be used to support any future court action.
Legal action
Possession
If the nuisance or other problem is caused by one of our tenants and is persistent, we may consider it to be serious enough to take legal action. In such cases we may seek possession of your neighbour's home. If we take this course of action you may be required to attend court as a witness and we may need supporting evidence from other residents affected by the nuisance. They may also be required to attend court.
Court action is a lengthy process and there is no guarantee that a court will give us possession of your neighbour's home. We will only take this action as a last resort.
Demotion of tenancy
In certain circumstances, we may be able to ask the court to reduce your neighbour's security of tenure. This would then make it easier for us to get possession of your neighbour's home if the nuisance continued.
Injunctions
In some cases we may be able to seek an injunction to stop the nuisance, or to stop the person responsible visiting certain areas or having contact with the person they have harassed.
You may be able to obtain an injunction yourself to restrain people who cause serious problems. You may need legal advice for such action, in which case you may be able to claim legal aid, depending on your circumstances.
Racial and other harassment
Our equality and diversity policy makes it clear that we have a duty to ensure that all tenants, leaseholders and licensees are able to enjoy the peace and comfort of their homes, free from any kind of harassment.
We will take all complaints about incidents of racial, sexual or other forms of harassment very seriously and investigate them sensitively. If the complaint is substantiated, we will take action against the perpetrator of such harassment. We will take action whether the perpetrator is one of our residents, employees, contractors or board members.
If any resident harasses others on the grounds of race, gender, disability, colour, religion, marital status, ethnic or national origin, nationality, political beliefs, age, class, unrelated criminal offences, sexual orientation or any other condition not justified in law, this may be a breach of their tenancy and could result in them losing their home.
Support for victims
As well as dealing with the person responsible for anti-social behaviour, neighbour nuisance or harassment, we aim to offer support to you if you are a victim of such behaviour. This may involve offering advice and information, putting you in touch with other agencies that can help, providing extra security for your home, or talking to the police about what they can do.
We will support complainants and we can offer the support of our witness champions who are tenants or neighbours who have personal experience of the witness process.
Crimes committed against someone because of their disability, gender-identity, race, religion or belief, or sexual orientation are hate crimes and should be reported to the police. We will work in partnership with the police to deal with these issues.

Further information
If you would like more information about how we deal with antisocial behaviour, nuisance or harassment, or if you would like our statement of our policy and procedures, contact the community safety team on 01305 216090.