Maintenance and repairs for homeowners
Reporting repairs and defects
This section provides general guidance on responsibilities for maintenance and repairs. Your lease will tell you what part Magna will play in the maintenance of your property.
Generally, if you live in a house, you are responsible for all repairs and decoration both internally and externally to your home. We are responsible for any common parts or communal areas you may share with other properties.
If you need a full interpretation of the lease, you should consult your own solicitor.
Your responsibilities
The table below shows the general position in relation to the responsibilities for various types of repair. Your lease will show the exact position.
Please note that where repairs are shown as being our responsibility, we will charge a share of the cost of these repairs to each homeowner.
Generally, if you live in a flat, you are responsible for all maintenance and repairs inside your home, including repairs to the glass in windows and doors, the internal decoration of your flat and services to your flat only. We are generally responsible for maintaining the main structure and the common parts including communal area floor coverings. The main structure includes the roof, outside walls, outside doors, window sills and frames, drains, gutters and outside pipes and communal pathways steps or other access routes. The exact details of our responsibilities will be shown in your lease.
* Please note that leases will vary and what is written above is to be used as a guide only. Some homeowners are responsible for the window frames, doors leading into communal areas etc. Always read your lease.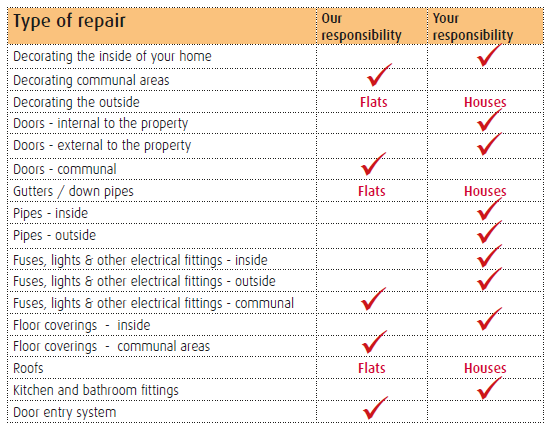 Insurance
For the majority of our properties, we are responsible for insuring the structure of your home against major risks such as fire, flood, subsidence and storm damage. We can send you a copy of the insurance policy if you ask us. If you are unsure whether or not you are responsible for your own insurance you should consult your lease.
You are strongly advised to insure your personal and household contents such as furniture, carpets, clothing etc yourself.
You are also responsible for making good any damage caused to your neighbours' effects or decorations. For example, if your washing machine leaks into the flat below or your bath overflows, you will be responsible for this and you are therefore advised to ensure this is covered by your household contents insurance.
Our contractors will have insurance cover against accidental damage to your possessions. Please contact us if you have any problems.
Repairs in newly-built properties
Some repairs fall within a "defects liability period". The defects liability period begins upon practical completion and typically lasts six to twelve months.
Any defects that arise during this period should be reported to our freephone repairs line. Upon receipt of the information a decision will be taken whether the repair is a defect of the works (ie works that are not in accordance with the contract), or a maintenance issue, that you, the leaseholder, would be responsible for. If it is a defect, instructions will be passed to the contractor to make good the defects within a reasonable time.
At the end of the defects liability period, we will prepare a schedule of defects, listing those defects that have not yet been rectified, and agree with the builder the date by which they will be put right. The builder must rectify defects within a reasonable time.
Cyclical and planned maintenance
We will arrange a programme of redecoration and associated repairs at each block of flats. This will normally be once every six to seven years or as considered necessary in line with your lease. The work may include:
redecoration of communal areas;
repointing brickwork on the outside of the building;
repairing or replacing faulty gutters and rainwater pipes;
painting outside windows and doors and gates;
repairing faulty roofing; and
repairing broken boundary fences and footpaths.
We refer to this as cyclical maintenance. We will arrange for a condition survey to be carried out at your scheme, which will help us identify cyclical work that needs to be carried out. We will also repair or replace parts of the building that are nearing the end of their expected life. We refer to this as planned maintenance.

We may use surveyors to prepare a specification, to tender the work and to supervise contractors as they carry out the work.

Consultation on cyclical and planned maintenance and other major repairs

Under the Landlord and Tenant Act 1985 and the Commonhold and Leasehold Reform Act 2002, all landlords must give information about the repair work if the cost to a leaseholder will be more than the amount set by the government regulations. This is currently £250 a property. So, if we want to carry out any work which is likely to cost any home owner more than £250 including VAT and administration costs, we will consult you by:

providing you with details of the work we are planning to do
providing you with at least two estimates
inviting you to nominate a contractor other than the ones we have asked to tender and
asking for comments and/or observations.
Consultation will also be required if we intend to enter into a long term contract (over 12 months) where the cost of the contribution per home owner exceeds £100.
When we undertake work which will cost less than £250 per property, we are not required by law to undertake full consultation. However, we will normally advise you when such works are planned, except in the case of emergency repairs.

Paying for cyclical and planned maintenance
When we undertake cyclical and planned maintenance and other repairs, we will charge each shared owner and leaseholder a share of the cost of the work. Sinking funds may be sufficient to meet all or part of your share of the costs. Where there are no sinking funds, or they are insufficient, you will be invoiced for the amount you have to pay towards the cost of the work.


When to report a repair that is our responsibility
Please let us know immediately if you need to report an emergency repair which is our responsibility.

If the repair is our responsibility but is not an emergency, you can contact us at any time during normal working hours.

All repairs are classed as being emergency, urgent or routine and have different target times. These depend upon our surveyors, contractors and trade staff being able to gain access to undertake the work. Response times are measured from when a repair is reported.
Gas servicing and fire safety
In 1998, the government introduced a new law for all landlords who rent out a property, to employ a registered gas engineer to carry out a gas safety check at least once a year, on all gas appliances. Upon request, a landlord should be able to provide a certificate to prove that their gas appliances are serviced. If you are a leaseholder that rents out your property, you are a landlord and this law applies to you. Even if you are not a landlord, Magna strongly recommend that you have your boiler and other gas appliances serviced once a year. It could reduce the cost of repairs as well as ensure that your home appliances are safe for you to use.

We do our best to keep your homes safe from fire – and we need your help.

if you have smoke alarms, test them weekly, and replace batteries when necessary.
make sure you know what to do if you do have a fire. Have an escape route planned.
keep your escape routes clear.
if there is anything that might prevent you escaping, please contact the home ownership team for advice.
To meet fire regulations, doors that open onto a communal area (ie front door) or an escape route, should have a fire resistance of at least 30 minutes with a smoke seal and self closing device fitted. This would allow you more time to escape a building and help reduce the time a fire takes to spread. The current minimum requirements are a BS8214:2008 door.

If your doors do not meet fire regulations, you could be in breach of your lease as well as putting your friends, family and neighbours at risk.


Cavity wall and loft insulation
If you live in a flat, the roof space belongs to Magna and does not form part of your demise. Magna does not permit you to stores items in this space and / or install cavity wall or loft insulation.

Not all properties are suitable for cavity wall insulation. If your home is in a highly exposed area that is subject to harsh weather conditions, has a cavity of less than 50mm or the structure would require expensive remedial works in order to install the insulation, it may be that your home would not benefit from these works and could prove to be detrimental to the property. If you require more information on this, you can contact us on 0800 358 6025.

Loft spaces are not designed for storage purposes. Any articles you store in a loft area are at your own risk. If we need to get access to a loft for maintenance work you may be asked to remove any items you have stored there.
Alterations
Your lease will say what alterations you can make. Any structural alterations may also need planning permission or building regulation approval (or both).
Please note there may be a charge for your landlord to grant consent for alterations.

We can only withhold permission if we have good reason. For example, if the alteration will:

make your home less safe
increase our maintenance costs
break building or planning regulations or
break the conditions of the lease.

For structural alterations, we may get the advice of a surveyor before we approve your alteration. We may also ask the surveyor to check that the completed work is done to a good standard. We will charge you the cost of the surveyor. We will tell you beforehand how much the surveyor will charge and get your approval before we ask the surveyor to start work.

We will ask you to return your home to its original state if you make an alteration without our approval.

If you are considering making changes to your home, please check your lease agreement in the first instance for your 'Rights and responsibilities', furthermore to contact the home ownership team and/or the legal team, before commencing any work, details can be found at the end of this handbook.